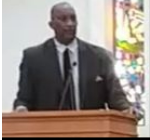 Rev. Greg Richardson
Assistant Pastor

Rev. Greg Richardson is a lifelong member who was born and raised at Mount Zion Missionary Baptist Church. He is an ordained minister who is truly devoted to God and his family.

The Hunter is on the Prowl - Watch for his Traps
From I Peter 5:8"